Modern Classics: Eileen Gray Side Table
Also known as the E-1027 Table, this circular glass table was designed with Eileen Gray's E-1027 House (in southern France, near Monaco)  Now, if you're curious what those numbers mean, it's a code for the people who collaborated on the design of the house and who also just happened to be lovers:  Eileen Gray + Jean Badovici.  Read more about that here.
Gray, like many successful designers, was inspired by the world around here, and designed this table with both her sister's habit of eating breakfast in bead (crumbs are soooo inconvenient) and Marcel Breuer's tubular steel experiments at the Bauhaus.  I think you can also see Le Corbusier's influence on this table and other pieces...
The result was this gorgeous table with a chrome-plated steel frame/base, glass top and adjustable side.  Supreme in it's function and simplicity, it's a gorgeous piece that looks beautiful in any space.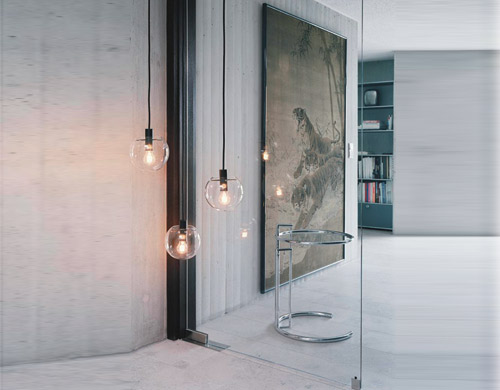 Breakfast in *day*bed is rather chic in Kazumi Yoshida's Manhattan Loft...
At the Healdburg Modern Cottages in Healdsburg, CA, four cottages are named for and designed with that designer in mind.  Here's the Eileen Cottage...
Here, the table is nestled in a haven of modern glass + steel furniture.
I know the doggy does not care, but even in this modest, though expertly decorated home in Vancouver, Eileen Grey's Side Table fits right in.
Blargh...so much awesomeness in this space...
Now you can get your hands on a replica of Eileen Gray's superb E-1027 Adjustable Side Table.  It comes with a chrome finish, and looks stunning in both classic and ultra-modern settings. The height is adjustable for complete versatility and functionality.
The Eileen Gray adjustable side table is on sale now at RexKelly.com for only $109.