Modern Classics: The Nelson Wood Base Platform Bench
"The single common element in all man-made things is that they are designed." ~George Nelson~
While Nelson is most famously known for his myriad Bubble Lamps, his weirdo (in a good way) clocks and his furniture inspired by foods, Nelson also designed this platform bench- considered an icon of modern design.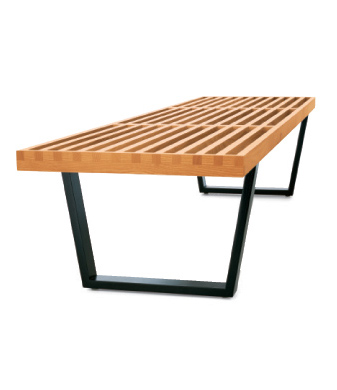 It initially debuted in 1946 for the Howard Miller company and was later praised for its honest design in a 1955 catalog.  With its clean lines and solid base, it's a truly great piece.  FYI, there's also a bench with a metal base Available in a small, medium, or large size, the bench is incredibly versatile.  Use it as a bench to display your junk (Nelson liked junk), or use it as a coffee table, or you know...just put in your hallway so guests can look at those gams...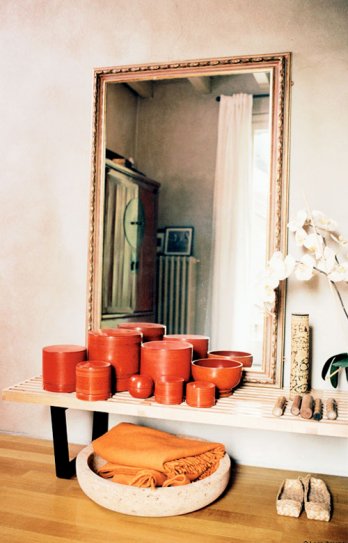 Here, in the hallway of this house on Caudill Lane, the Nelson Bench holds a couple of stacked books. Simple, of course, but the bench stands alone as its own piece.
Looks good at the foot of this bed, if I do say so myself.
In the bathroom...it holds towels!
In this photo, it's used as a coffee table...
In this awesome LA House, by Studio Guilherme Torress, two Nelson Platform Benches are coupled up to create a larger coffee table for large coffee table books.
And here's the large Nelson Platform Bench in a large hallway...
As you know, I got replicas in stock a couple of months ago, in small, medium and large.  Sold out of the small, but hopefully we'll get those back in very soon.
In the meantime, I still have beautiful replicas of the medium and large size Nelson Platform Benches; natural ash with black birch legs that will compliment any interior.
Medium, 60" long, on sale $269
Long, 72" long, on sale $299
Happy Monday and Happy Shopping!!!