Shopping with Rex Kelly: Rugs
Today, I want to talk about rugs.  How many of you own rugs or want to buy rugs but you're not 100% sure about the type, style or color rug you want or need because you decorate in (or maybe you're interested in) the mid-century modern style?  Well, the good news is that I'm awesome and I'm here to help.  To make things very simple, though, I'm going to focus on shopping for area rugs that are best suited for use in your living room, den, bedroom or your home office.  Rugs in the bathroom are just a no-no -- get a teak bathmat and call it a day-- and rugs in the kitchen...asking for trouble.
Go Vintage
If you want to go the truly vintage route, this is going to take some digging and it could get expensive.  Peruse websites like 1stDibs.com, eBay.com or Etsy.com to get a feel of the type of vintage rugs you'll find.  One company you might want to look up, is Ege Rya; a Danish textile manufacturing company.  The rya is actually a pretty old type of rug that's been manufactured in Scandinavia since the 15th century.  By the middle of the 20th century, Ulf Hard in the 1961 publication of Scandinavian Design explains that the rya rugs had become, "paintings in textiles."  Some of them are kind of, ugly, to say the least... I saw way too many ducks and swans and that sort of thing should not set foot in your houses ever.  But there are gems like these:
Mid-Century Ege Rya Rug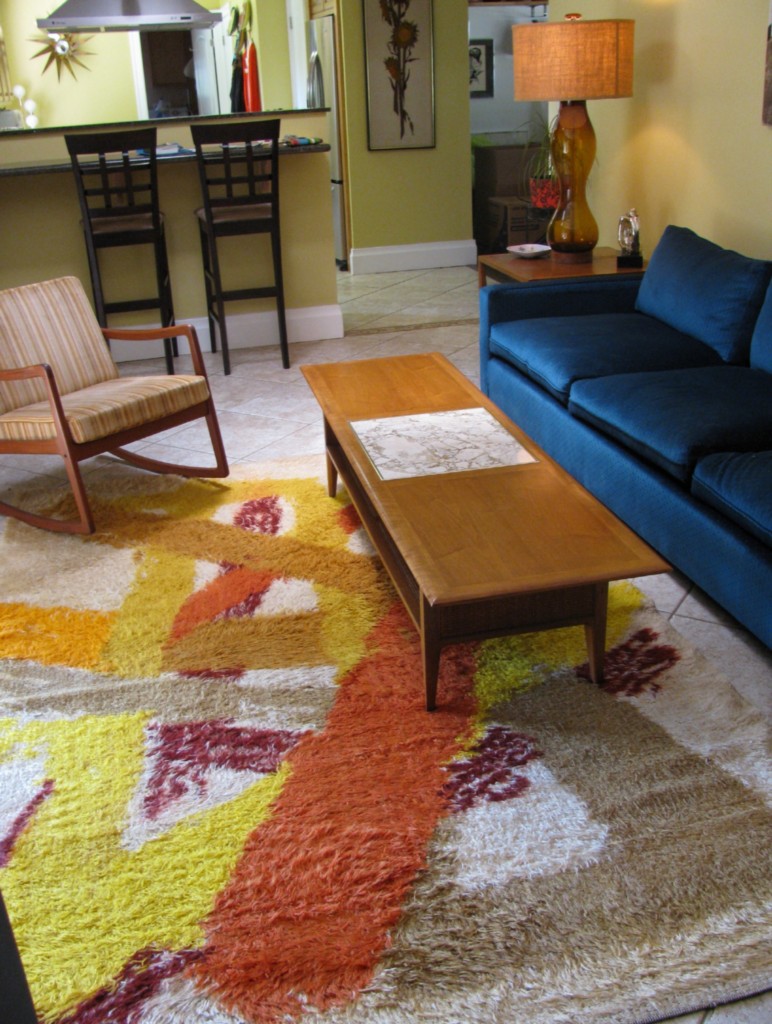 Wool Rya Rug "Brasilia" by Ib Antoni for Egetaepper (that's the parent company of Ege Rya)
You can also go for vintage Flokati Shag rugs, or pay a little bit less for one of the modern reissues.  These wool rugs are super soft, comfortable and versatile and they were very popular in the 1960s and 70s.  They are available in a variety of shapes; square, round, rectangle...and I don't know what you'd call the shape that Ikea has...  They're also available in many, many sizes and quite a few colors so the flokati rug is going to be much more sensitive to your decorating needs, than say, something from ege rya if you can find it. You can see how well they pair with iconic pieces of mid-century modern design below.
Go retro
Shopping for vintage textiles might be a bit difficult, so another route you can take would be to look for modern rugs that have a retro, astro or MCM feel to them.  Here are a few retro-inspired rugs:
One online boutique where I spend quite a bit of time oogling at stuff, is minimoderns.com.  They have a really fun selection of retro inspired rugs, wallpapers, et. al.  I absolutely love this Festival Rug, shown in grey (also available in blue and stone).
Go Modern
The final installment for this shopping series is to go chuck all to high hell and go for a modern or contemporary rug.  Don't kill me, but I am really starting to love a mid-century modern room with a cowhide rug.  I haven't pinpointed why, but I just think it works.  Case in point:
Design within Reach has a great selection of Cowhide Rugs in black, gold and tricolor and at $925, is actually fairly affordable for genuine cowhide.  They also have a zebra-printed cowhide, but I mean...you could just get zebra hide instead. So, in toto, when shopping for rugs that work with the mid-century modern design aesthetic: 1.  Go Vintage 2. Go Retro 3. Go Modern